Media Caching VCB embeds, Squid Cache
Boost the Content Delivery for VOD, OTT and IoT internet latest Technology today. You shall concern the Internet Network that needs to increase overall performance to support these services. The Media Caching solutions.
It's allow to maximize your internet bandwidth with also enhance the Internet speed optimization. No more headache and it is long term solutions with less effort.
VCB i75, i120, i275 embeds
VCB Enterprise server i7000
WISP and Mobile Data Off-loading Solutions
VOD pre-cacher
ISP Transparent Proxy farm Solutions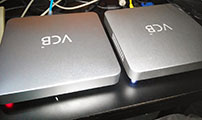 Our Solution Partners