Disaster Recovery NetIQ PlateSpin, SUSE HA, Geo Cluster, LINBIT
Secure your business continuities are the topics that hard to discuss, if you have no experience. Not only we manage Backup/Restore process, but it's all about whole Disaster Recovery process.
You find more comprehensive with new technology based on Visualization and Linux Enterprise High availability for Local and Remote DR site manage by us.
NetIQ PlateSpin Forge appliance/Protect Software
NetIQ PlateSpin Migrate, NetIQ PlateSpin Recon
SUSE Linux Enterprise server for SAP with High Availability
SUSE Linux Enterprise server with High Availability Geo Cluster
RaaS Recovery as a Service Whit-label for Hosting/ISP Solutions
Linux DRBD (Distributed Replicated Block Device) on LAN/DR site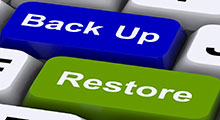 Our Solution Partners