Computer Networking CISCO, HEWLETT PACKARD, DELL, SUPERMICRO
The right design of Computer Networking it need to understand the overall layer of them. With professional Cabling and structured will help all of the upper stack become powerful.
We provide consulting services and implement for LAN and WiFi from simple to complex environments.
Cisco Networks switch and Router
Hewlett Packard Network switch
Professional Networks cabling/audit for LAN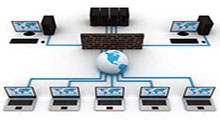 Our Solution Partners